What are ferrites, and where are they used? Ferrites are in almost every power supply in existence. From the cell phone in your pocket and wireless modem, medical devices and radio, to the refrigerator and garage door opener in your home. Talk about green, all the fuss about green energy…YES, LED lighting uses ferrite cores, too. Basically, anything that needs power probably has magnetic ferrite cores in them.
Ferrites are used all over the world in almost all modern devices from computer hard drives to the latest environmentally friendly cars and transportation.
Ferrites are essentially a chemical composition combining Iron (Fe) in the form of oxides (xxxFe2O4) with other elements to produce a usable composition. Ferrites are classified into two (2) categories, hard and soft. Hard ferrites maintain a magnetic field when there is no external force, i.e. permanent ferrites or permanent magnets. Soft ferrites do not maintain the magnetic field when the external force is removed. Soft ferrites require the present of an electromagnetic source in order to operate, usually a current passing through a wire generating the electric field causing the magnetic field.
A magnetic core is the composite material pressed and sintered into recognizable shapes. Magnetic cores are characterized by relatively high magnetic permeability used to confine and guide magnetic fields in electrical, electromechanical and magnetic devices.
There are four broad applications for ferrite cores which differ in size and frequency of operation:
Signal transformers are of small size and include notch filters and audio transformers
Power transformers/Chokes are of a larger size and frequencies for power applications
Common Mode Chokes for removing unwanted high frequency noise
Broadband transformers where simple inductance is required in a circuit
Cores can also be classified generically by shape, such as toroidal cores and cut cores, etc.
Invented by Japanese Scientists in 1930, this ceramic material has a general formula of XXx Fe2O4 where XX = MnZn, NiZn, Cu, Co, etc. Ferrites are ferromagnetic and depending on the composition can be conductive or non-conductive. They have low coercivity and are called "soft ferrites". The low coercivity means the material's magnetization can easily reverse direction without dissipating much energy (hysteresis losses), The most common soft ferrites are:
Manganese-zinc ferrite (MnZn)
MnZn have higher permeability and saturation levels than NiZn but have lower resistivity.
Nickel-zinc ferrite (NiZn)
NiZn ferrites exhibit higher resistivity than MnZn, and are therefore more suitable for frequencies above 5 MHz.
Properties of Ferrite
The following are general properties that apply to all MnZn ferrites:
Dielectric Constant 240 – 300
Specific Heat 800 J/Kg°C
Thermal Conductivity 1 – 5 W/m°C
Coefficient of thermal Linear Expansion 7 – 10 x10-6/°C
Modulus of elasticity 1.2 x 1011 N/m2
Vickers Hardness 500
TDK Ferrites
World's First Ferrite Manufacturer (started manufacturing in 1935). MH&W began in 1964 as the first distributor of TDK ferrites in the world and introduced TDK ferrites to the American market.
Factors Affecting Core Performance
Core performance is based on the raw material purity, Ferrite powder grain size, Ferrite powder grain uniformity, uniform pressing density, and control of oxygen discharge during sintering. The basic ferrite raw materials are obtained in an extremely high purity. The materials are mixed in highly controlled processes to control every aspect of the manufacturing process with the smallest possible tolerances. The processing is just as important as the material formulation. The forming presses and molds as are the tunnel kilns of TDK design and are made to exacting tolerances. Such extraordinary exacting process controls are required to assure the highest possible uniformity of product.
Like so many other products in our life, when it comes to an excellent product with over 80 years of being the best, trust the experts in technology…TDK Ferrites and MH&W!
Ferrite Manufacturing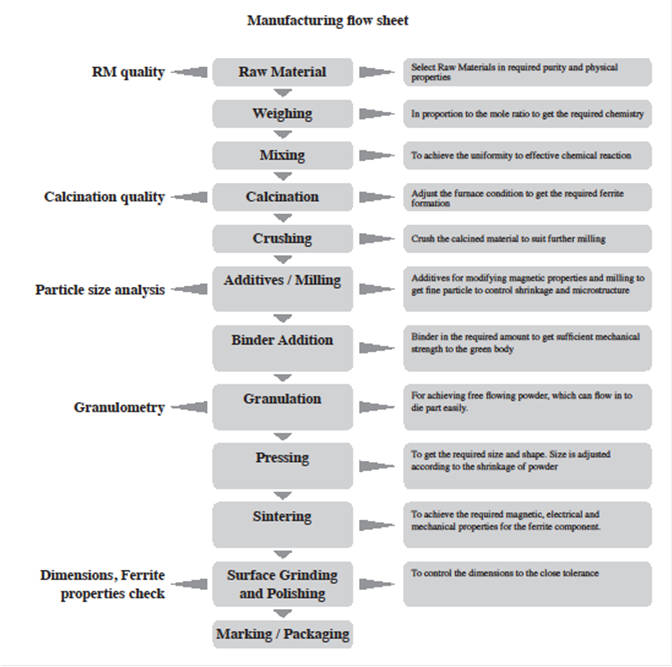 Applications for Ferrites by Industry
I will be at APEC 2017 this year. Please stop by and see me. Booth number 1826.
Applied Power Electronics Conference in Tampa, Florida on March 26th through March 30th. APEC is the premier global event in applied power electronics and we at MH&W International are excited to reconnect with and meet potential new customers and vendors while showcasing our product lines.