As MH&W International continuously strives to be the leader for offering powerful solutions in the magnetics industry, MH&W has partnered with a leading OEM supplier of amorphous cores, custom nanocrystalline cores, and 80% nickel iron alloy cores. The core configurations include toroid's, gapped toroid's, cut cores, and specialty stampings. With the addition of these products, MH&W will be able to offer the marketplace competitive prices on low frequency magnetics designs in addition to the high frequency magnetics designs currently being supported.
Fe-based Amorphous Ribbon
Applications:
Medium-frequency transformer cores in heating equipment.
Toroidal gapless cores as SMPS output inductors and differential input inductors.
Toroidal gapless cores as noise prevention chokes in car audio and navigation systems.
Toroidal gap cores for PFC used in air conditioning and plasma TV.
High-frequency rectangular cut cores as output inductors and transformers in SMPS, UPS, etc.
Toroidal gapless cores as pulse transformers for driving IGBTs, MOSFETs, and GTOs.
Amorphous stators and rotors in high power density speed-variable electric.
Characteristics:
High saturation induction of 1.56 Tesla-Reducing component volume.
Low coercivity – Increasing component efficiency.
Low core loss – Reducing temperature rise in devices.
Variable permeability by different heat treatments – Satisfying various application requirements.
Excellent thermal stability – Highest service temperature of 130°C.
Featured Products: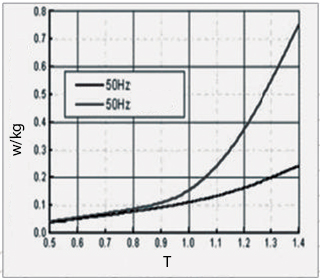 Power Frequency loss and excitation Power after annealing with Longitudinal Magnetic Field
Physical Properties:
| | | | |
| --- | --- | --- | --- |
| Saturation Induction (Bs) | 1.56T | Hardness Hv | 960kg/mm2 |
| Curie Temperature (Tc) | 410 °C | Density | 7.18g/cm3 |
| Crystallization Temperature (Tx) | 535 °C | Resistivity | 130 µ Ω-cm |
| Saturation Magnetostriction | 27 X 10-6 | | |
Comparison of characteristics between
Fe-based Amorphous ribbon and cold-rolled silicon steel sheet
| | | |
| --- | --- | --- |
| Performance | Amorphous | Silicon Steel |
| Saturation Magnetic Inductance (T) | 1.56 | 2.03 |
| Coercivity (A/m) | <4 | <30 |
| Maximum Permeability | >25 X 104 | 4 X 104 |
| Core Loss (W/kg) | 50Hz, 1.3T, P<0.2 | 50Hz, 1.7T, P=1.2 |
| Magnetizing Power (VA/kg) | 50Hz, 1.3T, P<0.5 | 50Hz, 1.7T, P<0.83 |
| Stacking Factor | 0.84 | 0.95 |
| Magnetostriction (X10-6) | 27 | n/a |
| Resistivity (µ Ω-cm) | 130 | 45 |
| Density (g/cm3) | 7.18 | 7.65 |
| Crystallizationi Temperature (°C) | 535 | n/a |
| Curie Temperature (°C) | 415 | 746 |
| Strength (Mpa) | 1500 | 343 |
| Hardness (HV) | 900 | 181 |
| 300 | 300 | 300 |
Specifications:
| | | |
| --- | --- | --- |
| Width (mm) | Thickness (µm) | Manufacturing Method |
| 5 ± 0.05 | 25 ± 2 | Slitted Ribbon |
| 8 ± 0.05 | 25 ± 2 | Slitted Ribbon |
| 10 ± 0.05 | 25 ± 2 | Slitted Ribbon |
| 15 ± 0.05 | 25 ± 2 | Slitted Ribbon |
| 20 ± 0.1 | 25 ± 2 | Slitted Ribbon |
| 25 ± 0.1 | 25 ± 2 | Slitted Ribbon |
| 30 ± 0.1 | 25 ± 2 | Slitted Ribbon |
| 40 ± 0.1 | 25 ± 2 | Slitted Ribbon |
| 50 ± 0.1 | 25 ± 2 | Slitted Ribbon |
| 60 ± 1 | 25 ± 2 | Casted Ribbon |
| 100 ± 1 | 25 ± 2 | Casted Ribbon |
| 142 ± 1 | 25 ± 2 | Casted Ribbon |
| 170 ± 1 | 25 ± 2 | Casted Ribbon |
Note: Other specifications can be provided based on customer requirements