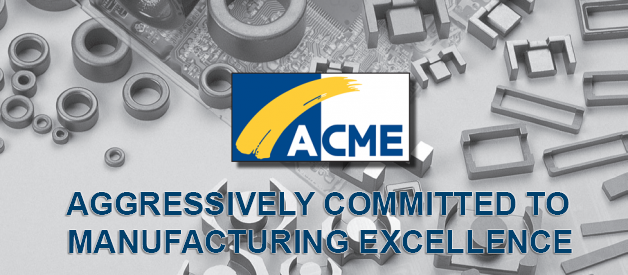 NEW – ACME Flexible Ferrite
ACME Electronics Corporation is a subsidiary of the public listed company, USI Corporation, Taiwan. ACME is one of the leading manufacturers of soft ferrite in the world. ACME headquarters is in the Nei-Hu District of Taipai, Taiwan. The manufacturing plants are in:

Kuan-Yin Industrial distract, Taiwan
Ipoh, Perak, Malaysia
Kunshan City, Guangdong, China
Zengcheng City, Guangdong, China
Acme ferrite products include both MnZn and NiZn soft ferrites in a multitude of shapes and sizes. ACME's Soft Ferrite products are elements of inductance passive electronic components such as power transformers, loaded coils, choke and demagnetization coils, which are widely used in numerous 3C devices, including power supplies, desktop monitors, notebooks, broadband network systems, telephone switching systems, relay stations, mobile phones, PDAs, LCD TVs, digital cameras, digital video cameras, video games handsets, scanners, etc.. Aiming to become a global leader of soft ferrite passive components, ACME is dedicated to providing flexible production system, high quality products, and professional service for customers. ACME has a total capacity of about 15,000 metric tons per year
ACME facilities are certified for:
ISO 9001
ISO 14001
QC 080000
TS 16949
ACME Ferrite has an aggressive research and development that pushes the envelope on new ferrite materials. Here is a chart showing the future developments of the power materials.
Cross Reference Chart
| ACME | P4 | P41 | P42 | P43 | P46 | P48 | P5 | P51 | P52 |
| --- | --- | --- | --- | --- | --- | --- | --- | --- | --- |
| TDK | PC40 | PC44 | PC90 | | PC95 | PC47 | PC50 | PC50 | |
| NICERA | NC-2H | 2HM5 | BM27 | | 3H | | 2M | 5M | |
| EPCOS | N67,N87 | N97 | N92 | | N95 | PC47 | N49 | N49 | |
| FERROXCUBE | 3C85,3C90 | 3C96/3F3 | 3C92 | 3C93 | 3C95 | | 3F3 | 3F35 | |
| DMEGC | DMR40 | DMR44 | DMR90 | | DMR95 | | DMR50 | | |
| TDG | TP4 | TP4A | TP4S | | TPW33 | TP4D | TP5 | TP5A | |
| TOKIN | BH2 | BH1 | | | | | | B40 | |
| FDK | 6H20 | | | | | | 7H10 | | |
| MAGNETICS | P | R | | | | | R | K | |
| THOMSON | F1 | | | | | | | | |
| TOMITA | 2F8,2G8 | | | | | | | | |
| JFE(KAWTATETSU) | MB3 | MB4 | | | MBT1 | | | MC2 | |
| SAMWHA | PL-5,PL-7 | PL-11 | | | | | PL-F1 | | |
| ISU | PM7 | PM11 | BM15 | | PM12 | | FM4 | FM5 | |
| HITACHI | ML24D | | | | | | | ML12D | |
| FAIR-RITE | 78 | | | | | | | | |
| FERRITE INTˇ | TSF-7099 | TSF-7060 | | | | | TSF-5099 | | |
| KASCHKE | K2008 | | | | | | | | |
| ISKRA | 45G | | 55G | | | | 35G | | 75G |
| ACME | A041 | A043 | A05 | A07 | A10 | A101 | A102 | A121 | A151 |
| --- | --- | --- | --- | --- | --- | --- | --- | --- | --- |
| TDK | DN45 | DNW45 | H5B/HP5 | H5B2 | H5C2 | | | H5C4 | H5C3 |
| NICERA | | | NC-5Y | NC-7 | NC-10H | 10TB | | 12H | 15H |
| EPCOS | T57 | | N30 | T35/T37 | T38 | T38 | | T42 | T46 |
| FERROXCUBE | | | 3E2A | 3E25  3E27 | 3E5 | 3E55 | | 3E6 | 3E7 |
| DMEGC | DMR4KDC | | DMR5K | DMR7K | DMR10K | | | DMR12K | DMR15K |
| TDG | | | TS5 | TS7 | TS10  TS10A | TH10 | | TS13 | TS15 |
| TOKIN | | | 5H | 7H | 10H | | | 12H | 15H |
| FDK | | | 2H06 | 2H07 | 2H10 | | | | 2H15 |
| MAGNETICS | | | J | | W | | | | H |
| THOMSON | | | T6,T6A | T4A,T4 | | | | | |
| NEOSID | | | F-830 | F-860 | F-938 | | | | F-942 |
| TOMITA | | | 2F1 | 2E1 | 2E2 | | | 2H2 | 2H1 |
| JFE(KAWTATETSU) | | | MA055 | MA070 | | | MA100 | MA120 | MA150 |
| SAMWHA | | | SM50 | SM70S | SM100 | | | | SM150 |
| STEWARD | 36 | 46 | 35 | 37 | 40 | | | | |
| KRVSTINEL | | | K82 | K86 | K87 | | | | |
| HITACHI | | | MQ53D | MP70D | MP10T | | | | MP15T |
| FAIR-RITE | | | 75 | | 76 | | | | |
| FERRITE INTˇ | | | TSF-3000 | | TSF-010K | | | | |
| FERRONICS | | BE | B | | T | | | | V |
| KASCHKE | | | K5000 | | K10000 | | | K12000 | K15000 |
| ISKRA | | | 19G | 22G | 12G | | | 32G | 52G |
| ACME | N10 | N2 | N4 | N42 | N43 |
| --- | --- | --- | --- | --- | --- |
| TDK | | DN45 | | | |
| NICERA | WT-10 | | 2B | | |
| EPCOS | | T57 | N48 | N45 | M33 |
| FERROXCUBE | | 3.00E+28 | 3B7 | 3B46,3S5 | 3D3 |
| DMEGC | | DMR4KDC | | | |
| TDG | | | TH2 | | |
| SAMWHA | | SM43T | SM23T | | SM8T |
| ISU | | | | BM30 | |
| STEWARD | | 36 | | | |
| HITACHI | | | MQ25D | | |