ACME Electronics Corporation is a leading manufacturer of soft ferrite products for the electronics industry. They manufacture a wide range of Manganese-Zinc and Nickel-Zinc soft ferrite products that are used in the manufacturing of chokes, inductors, filters, transformers, and other products that are applied in alternative energy and industrial electronics.
ACME high permeability materials are used in common mode chokes, broadband filters, EMI filters, current sense transformers, and impedance matching transformers.
MH&W International is a franchised ACME distributor servicing the electronics and manufacturing industry.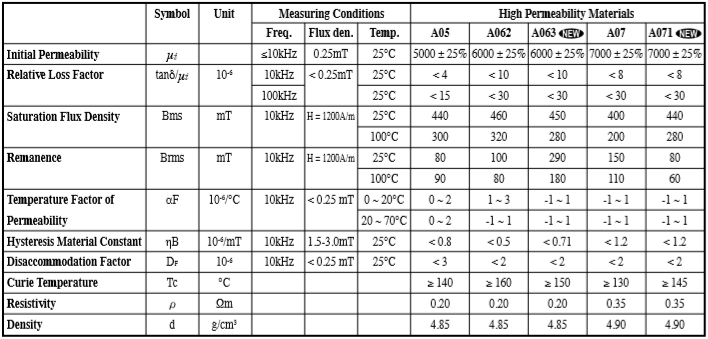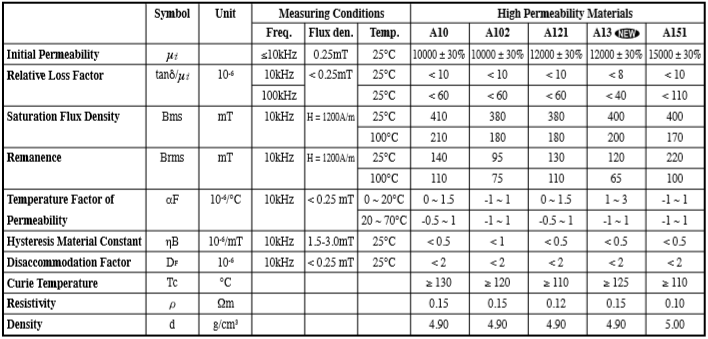 Note: Material characteristics are typical for a toroid core.
Product specification will differ from this data due to the influence of geometry and size.
MH&W High Perm Stock
O.D
max

I.D.
min

TH
max

Cross
Ref

A05T13.21X7.37X3.96 Epoxy

A10T13.21X7.37X3.96 Epoxy

A05T22.1X13.72X6.35 Epoxy

A10T22.1X13.72X6.35 Epoxy
High Perm Material Cross Reference
| | | | | |
| --- | --- | --- | --- | --- |
| µi | ACME | Mag Inc | TDK | FXC |
| 4,300 | A043 | – | H5A | 3E28 |
| 5,000 | A05 | J | H6B, HP5 | 3E2A |
| 6,000 | A061, A062 | – | – | 3E25, 3E27 |
| 7,000 | A07 | – | HS72 | 3E26 |
| 10,000 | A10, A101, A102 | W | H5C2, HS10 | 3E5 |
| 12,000 | A12, A121 | – | H5C4, HS12 | 3E6 |
| 15,000 | A15 | H | H5C3 | 3E7 |