The Primary Magnetic Materials for
Output Chokes / Inductors / Smoothing Chokes:
Gapped Ferrite Cores

Powder Cores

Cut Nanocrystalline Toroids
The characteristics of a good inductor material is high saturation flux density and low core losses at all frequencies and flux swings along with high energy storage (low inductance).  Unfortunately there are no ideal materials.  High energy storage requires air gaps.  Ferrite must be gapped on the center leg but this increases flux leakage.  Nanocrystalline is an excellent material however it is costly and requires special handling to cut the cores to achieve the air gap.  Powder cores have a uniformly distributed air gap.  MegaFlux, Sendust and High Flux may be considered the material of choice for the high saturation flux density.  However the core losses are very high when compared to ferrite.  Ferrite becomes the material choice for situations where there is a large flux swing such as resonant converters and high frequency.
A Diagram Showing How the Materials Relate
Between Frequency and Flux Density: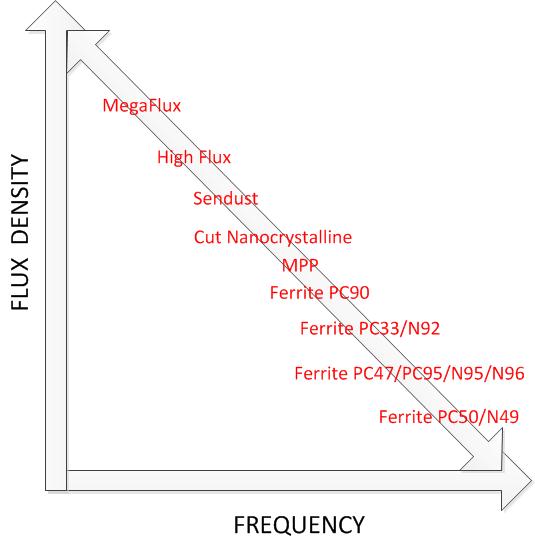 To aide in selection of material, please see the discussion below:
DC-DC Converter

Prevalent material is gapped ferrite.  The usual requirement for DC-DC converters is lowest possible losses for highest possible efficiency.TDK's PC90 material is the best material for this application with the Epcos N92 as an alternative.

AC-DC Converter

The wide variety of topologies have different demands on the magnetics.  Some converters require the highest possible saturation point so that Sendust or MegaFlux is the preferred material.  Other converters are more sensitive to core losses so that gapped ferrite or cut Nanoperm is the better choice of material.  Converters operating with a switching frequency over (about) 150KHz perfer gapped ferrite since the eddy current losses can be high.

DC-AC Inverter

The material of choice has historically been MegaFlux due to it's Mega high saturation point and energy storage.  Only in specific cases where efficient is critical does a gapped ferrite make sense.  This usual takes place in a solar inverter where efficiency is critical.